FAQ
What treatment options are available for sickle cell disease?
There are three categories of treatment options available for sickle cell disease: 1) preventative, 2) disease-modifying and 3) curative. Therapy options that fall under each category depends on the country you live in.

In the U.S. prevention option include: folic acid, penicillin or infection protection with antibiotics, vaccinations, and blood transfusions.

In the U.S. disease-modifying therapies include: hydroxyurea, l-glutamine, crizanlizumab, and voxelotor, which are all FDA-approved.

In the U.S. although not universal, bone marrow transplant or stem cell transplant is a curative option for sickle cell disease.
Is there a cure for sickle cell disease?
Bone marrow transplant or stem cell transplant is a curative option for sickle cell disease. Research is currently looking for ways to make improvements making this procedure safer and more accessible

Gene therapy is an emerging experimental technique that aims to treat genetic diseases by altering a disease-causing gene or introducing a healthy copy of a mutated gene to the body.
Why should I participate in sickle cell research?
The more we know, the further we'll go. For decades there has been a lack of research. Research is important because helps the sickle cell community better understand the disorders and identify ways sickle cell can be better managed.

In order to move sickle cell research forward, we need participation from all key stakeholders within the sickle cell community.
Learn
---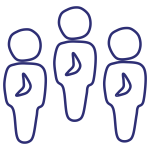 ABOUT SICKLE CELL DISEASE (SCD)
Sickle cell disease (SCD) is an inherited blood disorder that causes red blood cells to become fragile, sticky, sickle (or crescent) shaped red blood cells, unlike normal healthy ones.
Normal healthy red blood cells are necessary in the body for the binding and transportation of oxygen. The reduced ability of sickle-shaped red blood cells to perform this function, among others, results in an array of complication which can be severe. This is because those sticky sickle red blood cells accumulate on the walls of capillaries and blood vessels, damaging organs and clogging up the veins and depriving vital organs of oxygen.
There are an estimated 100,000 persons living with sickle cell disease in the U.S. and millions worldwide, according to the CDC. This is why it is important for researchers to develop therapy options to help you better manage the disease.
---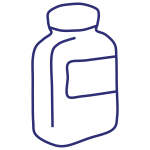 A SUCCESSFUL CLINICAL STUDY: THE PENICILLIN STUDY
The Penicillin Study conducted in 1989 asked parents to enroll their children in a study to determine whether penicillin given twice a day would provide protection to children with sickle cell disease from infection by pneumococcus, a severe bacterial infection and the most common cause of death in children who had sickle cell disease. At the time of the study it was common that children who were less than five years old to die from infections.
It was unknown at the time whether giving penicillin twice a day would protect children from infection. There were 215 participants in this study. The study was stopped early, as it was clear that penicillin was protective against infections. The study showed that life-threatening infections are decreased by 85% with penicillin.
Children with sickle cell disease continue to receive penicillin or other antibiotics today because of this study. This was a significant study, changing the course of sickle cell disease in the United States. Prior to the penicillin study, newborn screening was not common. This study was used as evidence that newborn screening for sickle cell would save lives by identifying infants who should begin taking penicillin by two months of age.
---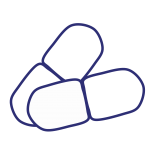 CURRENT TREATMENT OPTION FOR SCD
Resource: GLOBAL TREATMENT OPTIONS FOR SICKLE CELL DISEASE FACT SHEET
There are an estimated 100,000 persons living with sickle cell disease in the U.S. and millions worldwide, according to the Center for Disease Control (CDC). It is unfortunate that there are so few treatments that have been approved to treat the long list of symptoms sickle cell disease causes.
Once hydroxyurea was made available to the public, it took almost 20 years for the FDA to approve another sickle cell disease treatment. This is why it is important for us to get proactive about clinical studies; to contribute towards more treatment options for sickle cell disease in the future.
The current FDA drug treatment options for sickle cell disease are:
HYDROXYUREA
Helps prevent the sickling of red blood cells. It works by increasing fetal hemoglobin, a type of hemoglobin that is stronger at binding oxygen  

Approved in 1998 by the FDA
L-GLUTAMINE
Reduces severe complications and decreases sickle cell pain related hospitalizations
Approved in 2017 by the FDA
CRIZANLIZUMAB
Indicated to reduce the frequency of vaso-occlusive crises (VOCs) in adults and pediatric patients, aged 16 years and older, with sickle cell disease 
Approved in 2019 by the FDA
VOXELOTOR
Accelerated approval based on the increase in hemoglobin (Hb), which helps to prevent sickling and hemolysis (the breakdown of red blood cells)

Approved in 2019 by the FDA
There are several other diseases like cancers, diabetes and hypertension, that researchers have made great progress with finding treatments for. These breakthroughs are in part due to successfully enrolling patient participants in clinical studies.
---

DEFINING CLINICAL STUDY
OVERVIEW OF CLINICAL STUDIES
A clinical study or clinical trial is a research study to investigate how safe and effective a drug or therapy is. It requires volunteers and people like you to learn more about a condition like sickle cell disease and how a therapy (or drug) can improve your health and quality of life.
A clinical study may simply compare a new therapy to a widely used or standard treatment option that is already available.
THE SPECIFICS
With a clinical study, researchers create a research plan or a protocol to answer specific research questions to safeguard participants. The protocol also lists the goals of the study.
A protocol provides vital information about the study such as:
The reason for conducting the study

Who may participate in the study and the number of participants needed

The schedule of tests, procedures, or drugs and their dosages
The length of the study

What information will be gathered about the participant
A clinical study is conducted by a principal investigator (PI) along with a research team that may include doctors, nurses, social workers and other healthcare professionals.
A sponsor is an entity that funds the clinical study. Sponsors can be pharmaceutical companies, academic institutions, medical centers, voluntary groups, and other organizations.
Before a clinical study is allowed to begin, the investigators are legally required to get approval from an ethical review board, known as the Investigational Review Board (IRB), which ensures the safety of study participants.
As an added safety measure, the Food and Drugs Administration (FDA) approves all investigational drugs before they are made available to the public.
MILESTONES OF A CLINICAL STUDY
The milestones of clinical studies are described by phases, which are defined by the FDA.
Phase I #TreatmentSafety
The initial phase of testing, which explores a new therapy in a small number of healthy participants.
Phase II #TreatmentEfficacy
If a therapy is reasonably safe enough to use in healthy volunteers, it moves on to Phase II, which determines if a therapy works and how well it works. Only a small amount of participants living with sickle cell disease enrolls in Phase II.
Phase III #SafetyAndEfficacy
Phase III involves a larger sickle cell disease patient population. During Phase III even more data is collected about how safe and how well a therapy works while comparing the therapy to treatments already available for sickle cell disease.
FDA Approval #AvailableToThePublic
When the therapy is proven to be more effective and/or safer than existing treatments for sickle cell disease, an NDA is submitted to the FDA. After review of the data, the FDA then decides if the therapy can be used in the sickle cell disease patient population. If approved, therapy will be made available to the patient population.
Phase IV #AfterApproval
After the FDA has approved the therapy, researchers continue to collect information about the therapy's safety, efficacy and use. Phase IV can last for years.
Expanded Access or Compassionate Use #ForExtremeCases
Additionally, there are special cases that a therapy can be used before FDA approval. This is a way for patients with serious and extreme cases to gain access to a therapy that has not been approved by the FDA.
---

PARTICIPANT PROTECTION AND RIGHTS
INFORMED CONSENT
The informed consent is a document given to participants and individuals thinking about participating in a study. This document outlines important information about the study including the benefits and risks.
For safety reasons, all participants must sign an informed consent document before joining a study to show that they were given important study information and to make sure participants fully understand what the study entails. It is important to remember studies are designed around, you, the participant, so ultimately you have the power.
Important:  Signing the informed consent document does not make it a binding contract. This means you can leave the study at any time, for any reason, even if the study is not over. #YouHaveThePower
INSTITUTIONAL REVIEW BOARD (IRB)
Before the study can be offered to participants, it has to be reviewed and approved by the IRB. The role of the IRB is to make sure that the study is ethical and that the rights and welfare of the study participants are protected. This includes making sure that potential benefits of the study outweigh the risks and in addition, risks are minimized. The IRB also reviews the informed consent document.2a #SafetyFirst
---

COMMON CONCERNS ABOUT CLINICAL STUDIES
"I'm honestly nervous about the side effects."
This is completely understandable, but rest assure, before any therapy even gets approved for a study, the FDA requires the investigator to prove its safety from data collected before the study. In fact, there are years worth of steps a therapy must undergo to ensure your safety before participating in a study.
A scope of what possible side effects that can occur are provided by investigators. However, it is possible unanticipated side effects can occur, which is why it is important for any therapy to undergo this rigorous process.
Ultimately it is up to you, along with your healthcare provider and your support system to make an informed decision and determine what is best for you.
"I am just a guinea pig for another disease population."
Every study has a primary purpose. This is the most important find of the study. Therefore, a sickle cell disease study is designed specifically for the sickle cell disease patient population.
However, along the way researchers might learn about additional ways the therapy works in other populations that might benefit.
An example is the case of hydroxyurea (HU) and its original use in cancer. Researchers found out that cancer patients were experiencing increased levels of fetal hemoglobin while on HU. This finding was leveraged to benefit the sickle cell disease patient population.
"What about the United States's past mistreatment of study participants?"
In the past, there were unethical studies conducted against African Americans in the U.S., notably the Tuskegee Syphilis Experiment which spanned between 1932 to 1972.
Over the past five to six decades, updated regulations by national and international government agencies and along with other independent ethical committees have enforced ethical regulations to ensure participant safety and privacy.
As an added layer of protection, detailed information in the study protocol along with the informed consent help make sure you are always in the know and can make informed decisions.
"Why bother when I might only get the placebo?"
Often times during a study, the placebo is given to represent the current standard of care for a sickle cell disease patient. This means receiving the placebo is equally as important as receiving the therapy because it measures the new therapy against the care you normally receive, to measure how well the therapy works.
---

QUESTIONS TO ASK BEFORE PARTICIPATING
Before deciding whether you want to participate in a clinical study, be sure you have the answer to the following questions. Below are a list of questions you can ask your healthcare provider and/or study investigator. #BeInTheKnow
What is being studied? A new drug? A treatment?
Why do researchers believe this therapy will work in sickle cell disease?
On the flip side, why might this therapy not work?
Has this therapy been tested before?

What are the possible therapies that I might receive during the study?

What are the benefits? How about the risks? Any side effects?
Who will oversee my medical care during the study?
What tests and procedures are involved with this study?
How often will I need to visit the hospital or clinic?
How much time will I have to spend during each visit?
How long will the entire study last?
Will I be paid and/or reimbursed for my participation?
Is there follow-up care for this study?
Will I be allowed to continue the therapy after the study ends?
Will I have access to the study results after it ends?
---

YOUR PARTICIPATION IS IMPORTANT
#PastClinicalStudies
If you grew up in and after the 1990s, you probably remember taking penicillin or some other antibiotic to help keep you healthy and fight infections. That drug was made possible by sickle cell disease patients in the that participated in The Penicillin Study of 1989.
Just think– a group of sickle cell patients that participated in the Penicillin Study, helped provide preventative treatment for millions living with sickle cell disease globally. The point is, all medications and therapies you use today started off as a clinical study.
#NewTreatmentsForYou
Participating in a clinical study gives you the opportunity to try a new potential therapy for SCD that could help improve sickle cell related symptoms. Some studies even allow you to continue using the therapy if there are benefits to your health.
#EnrollForNewTreatments
Many clinical studies have closed because not enough people enrolled. If nobody enrolls in these studies, how will potential treatments and cures for sickle cell disease be found? Clinical studies need sickle cell disease patients to study potential treatments for sickle cell disease. This means, it takes all of us to move sickle cell research forward.
#HealthCoverage
Doctors, nurses and the study team are required to closely monitor your health throughout the duration of the study. Therefore as a study participant, you have access to quality care for your sickle cell disease.
#PayItForward
It takes all of us to move sickle cell research forward. 
As a study participant you are making a vital contribution towards new treatment options for your future and for future generations of sickle cell disease. To put it simply, you are the future of sickle cell disease.
---

HOW TO PARTICIPATE IN A CLINICAL STUDY
If you are interested in participating in a clinical study, it is important to know as much as possible about the study.
There are also resources available to individuals participating in studies, such as transportation to make participating easier. Overall, researchers want to make it as easy as possible for you to participate without stress or incident.
Here are several ways you can learn about ongoing clinical studies and how to enroll in them:
Check back here at Sickle Cell Studies periodically or sign up for our newsletter to stay on top of study information
Patient advocacy organizations
---

TERMINOLOGIES
ENDPOINT
The event or outcome that is measured to determine whether the therapy being studied is beneficial.
FDA APPROVAL
When the U.S. Food and Drug Administration (FDA) determines that the benefits of the therapy being tested outweighs the known risks. An FDA approval allows the general use of a therapy.
INTERVENTION (OR TREATMENT)
The therapy or process that the study focuses on.
INVESTIGATIONAL DRUG
The drug being investigated in a clinical study. Investigational drugs are not yet FDA approved.
PLACEBO
Any substance or treatment that seems to be real medical treatment, but isn't and has no therapeutic effect.
PRIMARY OUTCOME MEASURE
The most important finding or outcome of the study.
PRINCIPAL INVESTIGATOR
The primary individual responsible for the clinical study; the lead researcher.
PROTOCOL
A document that describes the study's background, objectives, and specific research questions.
SPONSOR
The entity that funds the study. Sponsors can be pharmaceutical companies, academic medical centers, voluntary groups, and other organizations.